Outdoor Movie Equipment Rental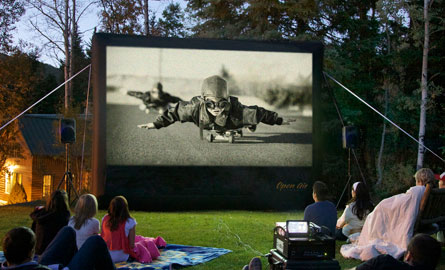 There is nothing like the big screen experience that our outdoor movie equipment rental provides.  We offer a full range of theater quality screens, video projection equipment and professional sound systems to fit any size crowd.  We offer our services to the Pittsburgh area as well as the rest of the surrounding tri-state area.  We go as far north as Erie, south into West Virginia, east as far as Harrisburg, PA and west into Ohio.
Ready To Rent?  Contact Us For A Quote!
You can either call us at 412-315-8133 or contact us via email and we will get you a quote for your event.  Some of the things that we will need to know are:
How many guests are you expecting?
How long do you want to use the equipment?  (A standard time for most movies is about 2.5 hours – although we can adjust as necessary)
What time of day is the event?  (After dark for the best possible experience if we are setting up outdoors)
Where is the event going to be held?
What Can You Do With Our Systems?
The most popular use is movies (obviously!).  We don't stop there though – Our outdoor movie rentals have other uses as well!  If you have a group that loves video games, they will be blown away using a 14+ foot screen in beautiful ultra high definition.  Games like Rock Band, Guitar Hero and Just Dance are also favorites for the less serious gaming crowd.  Our sound systems really make the games come alive.  We also do photo slideshows for weddings, birthday parties, and corporate events.
What Do I Need To Provide?
You need to provide the movie, video games or other media that you would like to play along with the playback device (Blu-ray Player, DVD player, Xbox, Playstation, Wii, laptop computer, apple tv, Roku, etc, etc, etc).  Our commercial projectors can accept almost any input source, we will verify that it will work with our system before your event.  Most modern video equipment uses the HDMI standard connection and we utilize that almost 100% of the time these days.  When possible, we try to have our own playback equipment as a "backup" in case yours isn't working properly.
What Happens If It Rains?
Weather happens and you really can't plan for it.  We understand this and we will always reschedule your event if it gets rained out.  You will have the ability to reschedule for any other available date if weather ruins your plans.  We can also move your event indoors (or under a pavilion or tent) if the facility will accommodate our setup.  (We are able to setup on any surface, even rooftops!  The main requirement is a room big enough for everyone to fit into.)  Regardless of what you choose to do, you won't be charged any extra for rescheduling or simply moving the event indoors.
How Big Are Your Screens?
We will recommend a size based on your approximate guest count and the venue size.  Below is an illustration to give you an idea of screen size.  This is our smallest screen!
Outdoor Movie Equipment Rental – Other Info
If you have any other questions or would like to get a quote, please give us a call at 412-315-8133.  We are happy to answer any questions that you might have about outdoor movie equipment rental, sound systems, or other related audio and visual needs for your event.